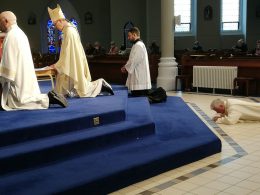 At a ceremony in Tullow Church on Sunday 4th of October 2020 , Bishop Denis ordained a deacon for the parish Tullow.  
Vincent Crowley is a married man with three children and is a former Bank official.
Liam Dunne and Eugene Keyes were also due to be ordained as deacons this month, for Carlow Cathedral parish and Portlaoise parish, however these ceremonies have been postponed.
There are now almost 100 deacons in ministry in Ireland with over 45,000 world wide.
We wish Vincent and the other eight deacons in ministry in our diocese every blessing. 
The Permanent Diaconate
The Diaconate is an ordained ministry which is rooted in scripture. Chapter 6 of the Acts of the Apostles records how the apostles appointed seven men to see to the needs of community members who were being overlooked. This is the essence of the ministry of deacons: to serve those in community who are poor and overlooked, whatever form their poverty may take.
Permanent deacons were very much a feature of the early Church but the ministry fell out of use over a thousand years ago and diaconate simply became a stage on the road to ordination for priesthood.
In 1967, Pope Paul VI, on the advice on the bishops of the world, restored the order of permanent deacons. In 2000, the Irish bishops began the process of reintroducing permanent diaconate into Ireland. Here in Kildare and Leighlin Diocese applications were invited in 2008 and the seven candidates accepted in 2009 were ordained on the 13th October 2013.
Applications were again invited in 2015, and the three candidates accepted are being ordained in the diocese in October 2020.
Permanent deacons are not substitute priests, nor are they intended to take the place of religious or of lay ministers. In regard to the liturgy and sacraments of the Church, a deacon can baptise, preside at marriages and funerals, along with assisting the priest at the celebration of the Eucharist, including proclaiming the Gospel and preaching.