Tullow Parish is heir to a remarkable religious tradition. It goes right back to the time of St. Patrick, and was nourished right down through the centuries by religious foundations at Tullow (Augustinian's), Aghade, and Killerig (Knights Templar).
This tradition truly flourished in the golden era of the Brigidine Sisters and the Patrician Brothers, two congregations founded in Tullow in the early nineteenth century by Bishop Daniel Delaney, one of four bishops of the diocese of Kildare and Leighlin who resided in Tullow. This era is still remembered with affection by many who recall the scores of "monks and nuns" who crowded the side isles of the parish church. Their influence was felt not only in their many schools here in Ireland, but also in their numerous foundations in every continent from which Brigidine's and Patricians of many races still look to Tullow as their spiritual home and source of inspiration.
Their influence and that of the various leaders in the parish down through the years remains evident in the goodwill and commitment of the people, so willing to serve in the different ministries and on various committees to improve the life of the community.
While we look to the past with pride and to the present with some surprise, let us look to the future with confident hope that we will build upon what is best from the past to ensure a future worthy of our great traditions.
Church of the Most Holy Rosary, Tullow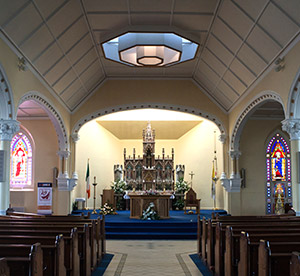 | | |
| --- | --- |
| Fridays | 7:30pm |
| Saturdays | 7.30pm |
| Sundays | 11am |
| Weekdays | 9.30am Mass on Monday, Wednesday and Thursday |
| Morning Prayer | 9.30am Tuesday and Thursday |
| Holy Days | Vigil: 7.30pm and 11am |
| | When there is no priest available for Mass on Monday, Wednesday or Friday morning, there will be a Liturgy of the Word with Holy Communion at 9.30 a.m. as is the current practice. |
The Church of the Immaculate Conception, Ardattin
| | |
| --- | --- |
| Sunday | 10am |
| Morning Prayer | 9.30am Tuesday and Thursday |
| | When there is no priest available for Mass on Monday, Wednesday or Friday morning, there will be a Liturgy of the Word with Holy Communion at 9.30 a.m. as is the current practice. |
Church of St John the Baptist, Grange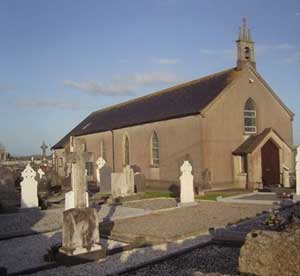 | | |
| --- | --- |
| Sunday | 9am |
| Morning Prayer | 9.30am Tuesday and Thursday |
| | When there is no priest available for Mass on Monday, Wednesday or Friday morning, there will be a Liturgy of the Word with Holy Communion at 9.30 a.m. as is the current practice. |