To mark the Brigidine Bicentenary the Irish, U.K. province made a decision to gift the Tullow Parish with three rooms underneath the Convent Chapel for parish use into the future. The plan was to turn one room into a Delany Museum and to use the corridor to record the life of the Brigidine and Patrician Congregations.
In the Daniel Delany Museum the province set out to create a simple exhibition in which could be displayed as many of the beautiful artefacts as possible and utilise the overall space available in a creative and artistic fashion. Artefacts are the main focal point of the exhibition with graphic panels and showcase design blending in with these. The long corridor leading up to the main exhibition area was identified as a further wall space, which would accommodate the Brigidine and Patrician stories.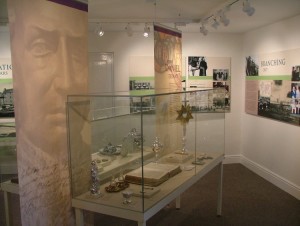 Museum, Monstrance & Bible used by Bishop DelanyIn a bid to maximise space, a consistent and carefully applied colour palette of beiges and creams was adopted, which contributed to an overall sense of naturalness and light. A selection of spring-like colours, to be found in the local flora and fauna were applied to graphics and showcase interiors with subtlety, which added freshness and vibrancy.
With the aid of the graphic panels the visitor can now journey through:
The Life of Bishop Daniel Delany
The foundation and early years of the Brigidine Sisters
Tullow – its Church, Convent and people
The life of the Brigidines, Patricians and education
Branching out
Patrician Brothers.
Museum Committee:
Chairperson: Dermot Mulligan, Curator Carlow Museum.
Secretary: Sr Mary Hiney
Treasurer: Christopher McQuinn
Committee: Billy Wright, Bro. Camillus Regan, Mgr. Brendan Byrne
The Museum is open for the two Sundays during Heritage week, on Corpus Christi and St Patrick's Day and also by appointment with any member of the committee.
Bishop Daniel Delaney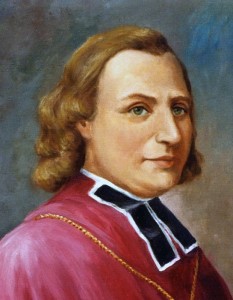 Daniel Delany was born in Paddock, Mountrath in 1747. He received his early education in a Hedge School. Even as a young boy he had a great desire to become a priest so a young Curate taught him the rudiments of Latin grammar. Later, since it was not permitted to study for the priesthood in those turbulent times in Ireland, he was helped to sail for France where he entered the renowned college of St Omer. In 1770 he was ordained priest and for seven years was Professor of Rhetoric in the college.
Desiring to see his mother and hearing that the penal laws had been somewhat relaxed he returned to Ireland. Being shocked at the decadence he witnessed he would have returned to France except for the entreaties of his mother. He was then appointed Curate in Tullow parish. There he encountered complete ignorance of the duties of religion. Sermons, exhortations and denunciations had seemingly little effect until he began to work with the children. Adults then came, slowly at first but then in numbers, so that he had to form a group of catechists to assist him. Gradually his efforts bore fruit and Tullow became a model parish. He was ordained Co-Adjutor bishop on August 31st 1783.
Being a man of prayer, Daniel spent many hours in adoration before the Blessed Sacrament, especially before some important undertaking. On the feast of Corpus Christi 1784 he organised a Eucharistic Procession despite strong opposition. He felt that as the Lord was worthy to be honoured privately he also deserved to be publicly venerated.
In 1788 he was appointed Bishop of the Diocese in succession to Bishop O'Keeffe. This made many new demands on time and energy but it also gave Daniel more scope for his ideas and freedom to try them out.
He continued his efforts to improve the lot of the people and realising that he needed the constant assistance of loyal, devoted teachers he founded the Brigidine Sisters on February 1st 1807. Twelve months later, on February 2nd 1808 he founded the Patrician Brothers. In the beginning the infant Congregations found it very difficult to cope. Living accommodation was inadequate and food was scarce. Life became so unbearable that the Founder allowed the Brothers to disband if they so wished. They chose to remain. During the following hundred years the two Congregations, Brigidine Sisters and Patrician Brothers, had spread to the five Continents. Today they continue the work for which Daniel Delany founded them almost two hundred years ago.
Bishop Delany passed to his eternal reward on July 9th, 1814 and his final advice to his followers was "Love God and live together in peace and charity".
His remains are interred in the Church of the Most Holy Rosary in Tullow, a church he built, and which he opened and blessed in 1805.