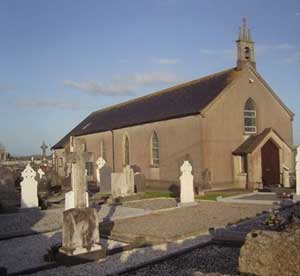 | | |
| --- | --- |
| Sunday | 9am |
| Morning Prayer | 9.30am Tuesday and Thursday |
| | When there is no priest available for Mass on Monday, Wednesday or Friday morning, there will be a Liturgy of the Word with Holy Communion at 9.30 a.m. as is the current practice. |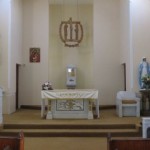 Grange (Grainseach, a Monastic Granary – Irish word borrowed from Latin "Granaria")
The present Church in Grange dates back to 1822.  It's style is Barn Type- Rectangular. When Fr. Patrick Keogh, Administrator Tullow Parish, renovated the Church, in the 1980's the work cost £80,000 while the original Church cost £100.
In 1148 the Cistercians founded Baltinglass Abbey. The estate headquarters in Baltinglass was known as the Abbey Demesne, and out-farms were known as "Granges"
The Knights Hospitaller of St John of Jerusalem staffed the churches of Killerig and Friarstown from the end of the 12th Century.
The site for the present church was secured in 1821, and a thatched church 57′x25′ was constructed.